Back To Blog
It Happens To Everyone
If you're old enough to own any substantial item such as a car, house or expensive bicycle then chances are you deal with keys on a regular basis. Chances are also good that you've mislaid your keys at some point and found the resulting scenario to be rather inconvenient. It happens to everyone eventually and to some people more often than others. In order to ensure that you hardly ever do lose your keys, we've written this post with some tips on how to keep them from disappearing. If they do still find their way into the couch corners or unknown depths of your handbag, then don't despair – we've got some solutions lined up for that as well.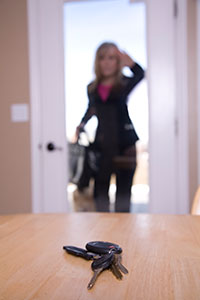 Keep Them Close
The first strategy for looking after your keys should be to keep them on you at all times. Getting into the habit of always putting your keys in your purse is a brilliant idea as it means you'll subconsciously always go to place them there. If you're a business owner, then you might want to consider giving your employees karabiners or lanyards to attach their office keys on to in order to avoid lost office keys situations which can be quite expensive to remedy. In addition to simply trying not to lose the keys, you can mitigate your risk by making double copies. This is a fairly standard practice and keeping a key copy somewhere safe will help ensure that you don't lose access to your own areas.
When They Disappear
If your keys have managed to vanish then it is a matter of getting your local Locksmith company to come out and change your locks as soon as possible. This will help ensure the safety of your belongings, as the sooner your lock is changed the less chance that somebody else will find your key and use it to break in. Having your lock fixed quickly will also benefit you directly as your house lockout situation will be solved and you'll be able to continue enjoying life conveniently.
Reliable Locksmith Services
A reliable Locksmith should be able to direct you to a number of ways in which you can keep your keys safe as well as being able to make you multiple copies of them. Taking the time to consciously decide on how you will manage your keys could save you no end of hassles in future. There are bound to be creative ideas for key holders all over Pinterest, for one, so if you want to have fun doing something useful: go nuts!